Seventeen seasons into his career, Jason Kidd is finally an NBA champion.
But that doesn't mean he's ready to leave the game of basketball behind. Far from it, actually.

Jason Kidd and the Mavs soaked in the afterglow of their championship during a victory rally at AAC on Thursday afternoon.

At the Mavs' championship rally inside the American Airlines Center on Thursday afternoon, J-Kidd reiterated that reports of his departure have been greatly exaggerated.
"That question seems to get twisted, cause I have another year on my contract so I plan on being back here," Jason said. "We've already won this championship. Now we have to go win the next championship."
No. 2 also told ESPN's Stuart Scott in the midst of last Sunday's championship celebration that he's feeling strong and plans to give it a go for as long as he's still able.
"With this group, hopefully another two or three [more years]," he told the television cameras. "I feel great, and being around younger guys and working on my game, and them believing in me, helped me compete every day."
Several of his teammates' contracts are expiring, but J-Kidd hopes this group of players will remain intact come next season.
"Management, [owner Mark] Cuban — he's never going to sit still. He's always going to try to make his team competitive and find a way to defend the title," Jason said. "I mean, we have a great group of guys. Again, we might be a little bit older, but we'd love to have the same team back."
Before the focus turns completely to next season, Jason did admit that he wants to take as much time as possible to enjoy being a champion, something he said he will never tire of hearing.
"Until October," he told HOOPSWORLD." You gotta enjoy it because it doesn't happen often. I was telling someone, the Lakers were going for their fourth year in a row playing into June, and you just don't understand the toll mentally and physically it takes. Having that bull's eye of ever team being up for you…we have to look to defend our title come October, but until October I'm going to enjoy it."
But once next season swings around he said he'll be right back out there trying to lead the Mavs to another title.
"I got too much left in the tank," J-Kidd noted. "We're going to go until the wheels fall off, I guess. I feel great mentally and physically. I understand I'm not fast, or as fast as I was when I was 25, but I love being out here with the young guys and playing, and just being one of the small pieces to help the team win."
Jason still has plenty more in him to give back to the game he loves. He's also learned that he can utilize the knowledge he's gained in the game to keep going, as he told Mike Lupica of ESPN Radio New York:
"I do. I feel great. Mentally and physically I feel I can still…I have a lot to give to the game. I love the competition. This is a kid's game. Being thirty-eight I think the media made more about it. I might not be as fast as I was when I was twenty-one or twenty-two, but I still feel the knowledge of the game I still have the advantage because I've seen almost everything. That's the only I can rely on is anticipation and understanding my opponent."
THE VOICE
Jason's effect on the Mavs comes out in many different forms.
According to coach Rick Carlisle, one of those comes through just talking with J-Kidd about the game and absorbing some of that knowledge base:
"Jason Kidd's contribution wasn't just on the floor. His DNA is all over this team. It's his leadership ability, his knowledge of our team, the example he sets with intensity and his coolness when the game is on the line. What he does can't be measured – he's one of the all-time greats.

"Talking to him and getting his input is like talking to Larry Bird. They say something that is simple, yet gets right to the heart of things in a way you never saw it before. The way he thinks the game and understands the psychology of the players puts him so far ahead that sometimes it's scary."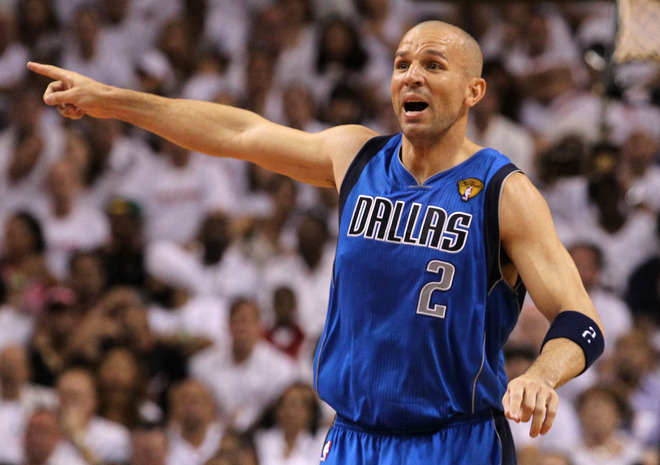 Jason's guidance was a key factor in the championship run, according to coach Rick Carlisle.

In fact, that's one of the main reasons the Mavs brought Jason back to Dallas in the first place. They needed a player with knowledge to run the show and take some of the leadership load off of Dirk Nowitzki, general manager Donnie Nelson recently revealed during a Q & A with the Fort Worth Star-Telegram:
"We've got a great point guard in Jason Kidd that's an assist waiting to happen. Before we got Kidd, Dirk had to create shots for his teammates and he had to make shots. That's a lot of stress and pressure to put on one player. I think the thing that we learned in 2006 is we've got to get a guy that's a quarterback — one the caliber of Jason Kidd — or we'll lose Dirk. So Jason Kidd was really born out of a need to really address our quarterback position."
But Jason said it was just as important for him to have the support system around him that Dallas offered:
"This has been a great journey," he said of the 2010-2011 season. "I'm very thankful to have this group of guys behind me to take me somewhere I've never been and that's a championship. So I want to thank my teammates, the coaching staff, coach Carlisle is great and again, I want to thank the fans. You guys were wonderful."
PATIENCE PAYS
The journey can be a long and hard one and Jason has learned through his years of experience that patience is a virtue one must have in the pursuit of a championship.

J-Kidd was rewarded for his patience over the course of his career with an NBA title.

That is also the message he relayed to good friend LeBron James, who came up on the other end of the Mavs' title celebration this year:
"He's a good friend of mine. I want him to have success and be successful. But I think right now, it's just being patient and all the great ones had to be patient. They had to take their bumps or lumps, however you want to look at it. But at the end of the day, they all found a way to win a championship. And I think at the end of his career, he'll have a couple championships."
According to J-Kidd, James showed grace after the Mavs' victory and was one of the first to congratulate No. 2 after the game was over:
"He said that if there was anybody to lose to that it would be me," Jason told ESPN Dallas.
But the opportunity to win a title is not a chance that every player gets, J-Kidd said, and it's something that at the beginning of a career, players usually take for granted:
"I think the biggest thing is I was very lucky to be in the right place at the right time," Jason said. "There are a lot of great players who haven't won championships, and I don't know that it really defines them as a loser. I think that when you look at who has won championships, that's not a lot of teams. The Lakers, Boston and San Antonio, I think, are the only teams who have won championships in the last seven years. I might be off, might be missing a team.

"Oh, and Miami. My bad," No. 2 added. "I knew I was missing one more. And Miami. So, when you come into this league, you feel you are going to win a championship, but now when you look at it closer, it's very hard to do.
But now that he's done it, J-Kidd his hopeful that his peers in the game also get to enjoy the same opportunity someday.
"It's something I hope every player can experience, because it took me 17 years. It's a great moment — for everybody."
For Jason, to do it in Dallas, just made it just that much sweeter:
"This is where it started and my dream came true in '94 when I was drafted by the Dallas Mavericks by Don Carter and Mrs. Carter," J-Kidd said. "I just didn't know it was going to take 17 years to win a championship."
RELATED STORIES