The Dallas Mavericks didn't miss a beat with Jason Kidd out of the lineup, posting a perfect 4-0 record. But that doesn't mean they didn't miss him.
In his return on Saturday, they looked better than they have all season.

J-Kidd's return to the hardwood, after sitting out four games with a lower back injury, was a successful one as the Mavs' veteran floor general led the team to a 99-60 rout of the Sacramento Kings. Jason tallied six assists and a season-high six steals to go along with five points on 2-of-2 from the field in the victory.
"He looked good to me. I thought he moved well and he had good balance," Carlisle told Dallas Basketball. "The two shots he took went in. His presence on the floor is irreplaceable … We weathered the storm without him. But we're not going to be the same team without him. There's no question about that."
Carlisle and his training staff had originally hoped No. 2 would be able to suit up on Friday against the Milwaukee Bucks, but after returning from their road trip the Mavs opted to give Jason one more day to recover. They defeated the Bucks soundly anyway, 102-76 and brought back J-Kidd just in time for another drubbing on Saturday, this one at Sacramento's expense.
"They felt going back-to-back, there was no need to," No. 2 said. "Going tonight, there was a green light. I could have played as many minutes [as Carlisle wanted], because I felt good."
No. 2 made an impact on the Mavs right away, as he posted four of his six steals and four of his six assists in the first half of the game. The Mavs took a 52-23 lead into the break.
"JKidd is such a technician," Shawn Marion said. "I've got so much respect for that guy. He's unbelievable on both ends of the floor."
The six steals on Saturday for No. 2 brought him to 2,498 for his career, two shy of a 2,500-steal plateau that only two other men in the history of the NBA have reached. He's also 17 shy of passing Michael Jordan to move into second on the all-time list.
Rob Mahoney of Mavs blog The Two Man Game wrote that Jason's work to grab those steals against strong and quick Kings point guard Tyreke Evans — and the anticipation J-Kidd used to do so — was a thing of beauty.
It was pretty entertaining to watch Jason Kidd blitz Tyreke Evans on his trademark spin. As Evans dribbled right, everyone on the floor knew he was going to spin left into some open space. It's simply what Evans does to combat his lack of proper left-hand moves, and his powerful spin in that direction was as inevitable as the shot attempt that would eventually follow. But rather than merely play positional defense geared toward that inevitability, Kidd attacked Evans mid-spin, capitalizing on the temporary lapse in ball security. As enjoyable as it is to see Kidd find a cutter at the perfect time or throw a lob at the exact height necessary, watching him go to work on the defensive end like this is its own special reward.
Behind Jason's work on Evans, the Mavs had their sharpest defensive game of the season, limiting the Kings to a mere 60 points — the fewest number of points allowed in Dallas franchise history.
"If we can continue to play defense like we did tonight then we've got a chance," Jason told Mavs.com.
In addition, the Mavericks offense looked smooth with J-Kidd at the helm. He was sharp in his first game in 10 days, showing no indication that the injury left him any worse for the wear in his 29 minutes on the court. After the game he told Brad Townsend of the Dallas Morning News that he felt strong.
"[I felt] rested. Felt great. No rust," he said. "[I] showed my speed off a steal, felt good."
SECOND KIDD?
As Jason recovered last week from his back injury, the Mavs went 4-0 thanks to the play of backup point guard Delonte West, a self-professed Jason Kidd clone.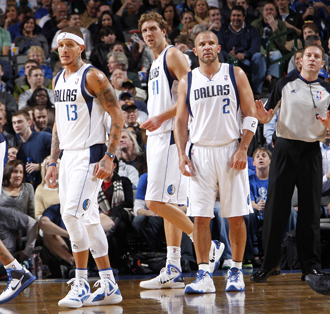 West grew up watching Jason play and according to coach Rick Carlisle, the game of the Mavs' second point guard has a lot of Jason Kidd elements.
"I know that from talking to him, for many, many years he patterned his game to try and play like Jason Kidd," Carlisle told the Dallas Morning News. "He has that kind of respect for him as a player."
Since his arrival in Big D, West has been leaning on Jason to help him adapt and it's been a smooth transition for the 28-year-old West, thanks to J-Kidd.
"I'm learning from some of the best," West said. "When I started my career, I was learning from Gary Payton and Doc Rivers, now I'm just scratching my prime and I'm learning from JKidd. He's constantly in my ear before and after games."
Like No. 2, West prides himself on helping the team in many ways. He is averaging 3.7 assists, 7.5 points and 1.7 steals per game. During Jason's absence, West had two 12-point games and a 10-assist game.
"The way that Jason plays, the total game is something that Delonte really feels is important," Carlisle said. "It's something that he took personal to try and fill in and try to get the job done."
But the return of Jason hasn't pushed West out of the lineup. He's now starting alongside Jason at the two-guard, bringing the Mavericks more versatility at both ends of the court.
"He is a competitor; we knew that before we got him," Carlisle said. "That's what everybody said, 'You know, the guy really competes.' I think when you look at the fact that we've improved defensively in the last six or seven games, his setting the tone has been a big factor in that. So, he's really important to us right now, as is everybody."
THE ART OF THE TRIPLE-DOUBLE
J-Kidd is nothing if not a well-rounded player.
No. 2 is able to contribute on both ends of the hardwood, providing an offense spark and showcasing his defensive flair — a presence that is often reflected in the game's box score, and, as of recently, the history books.
In his 17 seasons in the NBA, J-Kidd has posted 107 triple-doubles — an accomplishment that puts him third on the NBA's all-time list behind two of the best point men ever to do it, Oscar Robertson (181) and Magic Johnson (137). In a recent article for the New York Times' Off the Dribble blog, Benjamin Hoffman wrote about the drop in triple doubles in the league.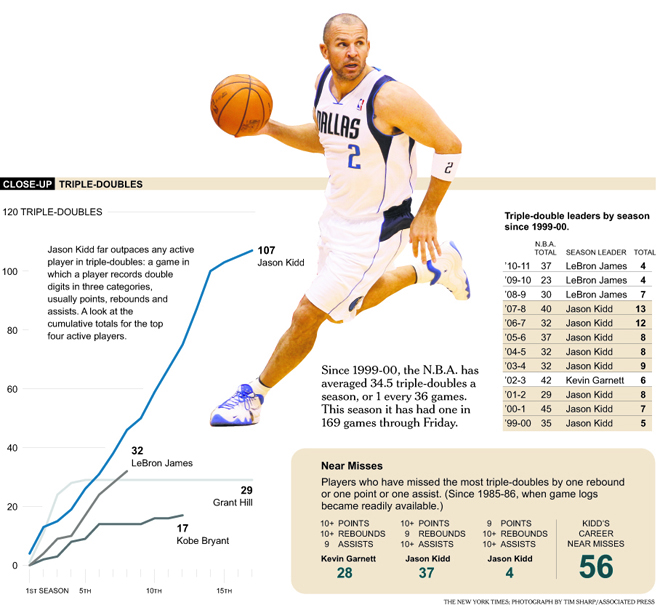 Learning to be a force both offensively and defensively was something that was instilled in No. 2 at a young age. He credits his high school coach, Frank LaPorte of St. Joseph Notre Dame High School in Alameda, Calif. with the lesson.
"The coach I played for kind of instilled that in me," Jason told The Times of LaPorte, who led the Pilots to back-to-back state championships. "He instilled the sense of playing both ends and not just focusing on scoring or rebounding but also helping your teammates get better. That's stuck with me since St. Joe's."
Now a seasoned NBA veteran, Jason has come a long way since his St. Joseph's days and has watched the game change as he has matured. Sometime during that change in the game, as the specialization of players to their position increased, the triple double got lost.
Just only one player, Rajon Rondo, has posted a triple-double so far this season. But J-Kidd is cognizant that the game will keep changing and one day some of the NBA's young players may surpass him on the list:
"You have special players like Rondo who will carry that torch," Kidd said. "It's kind of funny that it's gone to the smaller players. Once John Wall understands the game a bit better he'll come along with a couple [triple-doubles]."
KIDD ON KOBE
As the Mavs take on the Lakers tonight, Jason will be tasked with helping the Mavs slow down Kobe Bryant, who has scored 40 or more points in the last three games.
No. 2 did an incredible job on Bryant in last season's playoffs and is undaunted by the task, though he admits that Kobe could be a handful for the Mavs tonight.
"He's really putting on a show right now," Jason said. "I only play Kobe for about a minute and a half, and it always ends up (being) at the end of the game. He's playing at a high level; the Lakers are playing well, so we're going to have our hands full."
No. 2 and the Mavs kick off a four-game road trip tonight in Los Angeles where they take on Kobe and the rest of the Lakers (9-5).

The two teams last met in the second round of the playoffs last season when the Mavs swept the Lakers, ending the four-game thrashing with a convincing 122-86 victory.
Tonight's matchup is nationally-televised, so catch the action tonight at 9:30 CT on TNT.

RELATED STORIES