Jason Kidd got back to work on Friday night and didn't skip a beat.
Returning after a six-game absence, in the first game of a weekend back-to-back, J-Kidd made his presence known with a dazzling 10-assist performance. The Dallas floor general also contributed eight-points, five-rebounds and two-steals as the Mavs toppled the Minnesota Timberwolves, 104-97.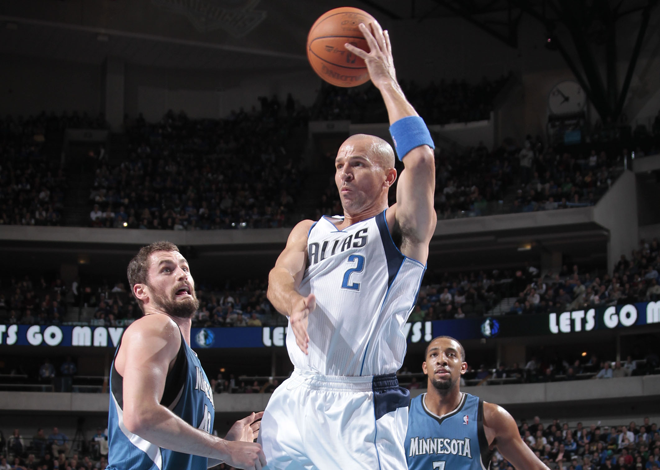 Jason returned with big passes and big shots to silence the Timberwolves (Getty Images).

Dallas dropped three of its six games in Jason's absence and clearly missed the presence of its floor general. Coach Rick Carlisle admitted it was nice to have his 'coach on the court' back in the game.
"[Jason's] a big part of our heart and soul. When we're without him, we can win some games but we're not the same team," he said. "It's great to have Kidd back and this is an important win for us."
Jason's value to the Mavs was on display from wire-to-wire as he pushed the team with a point differential of +23 in his 27 minutes on the court. And it was also No. 2 who came up with perhaps the shot of the night.
Having carried a lead of as much as 17 in the third quarter, the Mavs saw their edge trimmed all the way down to three early in the fourth. So Carlisle summoned J-Kidd, who was riding a stationary bike at the time, to return to the game.
"I got going in the fourth quarter with my bike ride to St. Paul and someone came over and said, 'Coach wants you.' So, I had to cut that bike ride short," Jason said. "It was just whatever I could do to help my team."
No. 2 re-entered the game with 10:32 to go in the fourth. Seventeen seconds later, he took a pass from Jason Terry and buried a triple to double the Dallas lead. They pushed it back as high as 14 before settling into a seven-point win.
"When they cut it to three we put Kidd back in the game and we got it back up to 13 or 14. He came right in the game and immediately hit a three and he got us going," Carlisle said. "He got us home. It's great to have him back."
MAVERICK QUARTERBACK
Just as important as J-Kidd's effectiveness in the clutch on Friday was his value as it relates to the rest of the team.
Lamar Odom compared J-Kidd to the most important player on a football team.
"He was missed," said Lamar Odom. "If you ever played football, you know you need your quarterback. J-Kidd is our quarterback. He knows how to get guys shots and control the tempo."
After struggling offensively in No. 2's absence, Dirk Nowitzki posted 33 points in Jason's return and led the Mavs in +/- as a +24.
J-Kidd's game-high 10 assists kept him running all over the court but were part and parcel to the Mavs' success in closing out the game.
"It's good to see him back," Nowitzki said. "The leadership he brings, his defense and his basketball IQ is probably the highest I've ever played with."
Jason Terry noted that the game is so much easier when No. 2 is on the floor.
"Jason Kidd was back in rare form," he said. "He makes the game so much easier for everybody.

"With him controlling it, I know I'm going to get good shots. He knows us like the back of his hand. It's definitely where we're most comfortable, especially when it's time to win."
After the game, J-Kidd told reporters he was a little gassed in his first game in over a week, but his calf felt "great".
"I felt good. Maybe my wind isn't as strong right now, but basically I feel good. We'll see how it feels in the morning. I'll go in and do what I normally do — treatment and stuff — and hopefully I'll be ready to go," the veteran said.
BACK-TO-BACK
Jason's wind got an immediate test, as not only did the Mavs return home to host the Portland Trailblazers the very next night, but they needed two overtimes to pull out the win.
Originally slated for 27 minutes, Jason played 31, but didn't seem any worse for wear. No. 2 pulled down eight rebounds and recorded a steal, while dishing out a game-high eight assists and contributing five points.
Still Carlisle chose to give J-Kidd the second OT session off, replacing him with Delonte West.
"Just coming off this layoff and the calf and he had the hip thing going on, it was basically going to be 18 minutes going into the fourth and then if we needed him for seven or eight at the end of the game, that would be OK," said Rick Carlisle of his intent to manage J-Kidd's minutes.

"He felt OK going into the first overtime, so he rolled with it, but then it was time to get him out. And that's why it's good to have a guy like West that I can trust to come in and make plays at both ends."
Jason's understudy was impressive, scoring six of Dallas' 10 points in the period to help the Mavs pull out a 97-94 win in double OT. But after the game, West credited the man he replaced for encouraging him to take the reigns.
"J-Kidd told me to go out there and be aggressive because of the way they were playing Dirk," said West, who finished with 10 points. "I sparked my team right there in the second overtime."
West went on to say that having Jason back in the lineup will be a boon for the Mavericks going forward.
"It's a good time right now to talk about a legend in his own rights who can still do it," West said. "He's a great leader on the floor. I think it's good to get him back these few games before the All-Star break so he can kind of get his flow back. He's one of the best to ever do it. Period."
MINUTE MEN
Managing the minutes of the team's many veterans has become the topic du jour in Dallas, especially in the Mavs' next stretch of games before the All-Star break.
Mavs owner Mark Cuban is cognizant of the tough schedule ahead and is keeping a close eye on both Jason and Dirk as the season approaches its halfway point.
"We do more long-term [game-planning] than game by game," Cuban said when asked how he keeps his team fresh in long stretches. "We want to win every game, and we're going to try to win every game, but not at the expense of trying to win a championship. We know which games count more."
"When Dirk has his mind and body right, he's right," he continued. "And when he doesn't, he doesn't. J-Kidd is the same way. That's the benefit of age. Young guys don't know how to figure that out."
For more on the management of Jason's minutes, click here to read Tim McMahon's take at ESPN Dallas.

NEXT UP
The grind continues tonight for J-Kidd and the Mavs who take on the Los Angeles Clippers at home tonight.
Last month, the Mavs dropped a 91-89 heartbreaker when they faced the Clippers at the Staples Center in LA. But the Clippers haven't won a game in Dallas in more than five years — a streak the Mavs hope to extend tonight.
Tip off is scheduled for 7 PM on Fox Sports Southwest.

RELATED STORIES