Wednesday was a record-setting night for Jason Kidd and he showed off with a vintage game.
On the night that he passed Sam Perkins to claim sole ownership for 13th most games played in NBA history with 1,287, J-Kidd was the difference-maker for the Mavs as they crushed the Denver Nuggets, 102-84.

J-Kidd sank four of six shots from three-point range for 12 of his 13 points to boost Dallas past Denver (Getty Images).
No. 2 posted an impressively well-rounded stat line on the historical night, with a season-high 13 points on 4-of-6 shooting —all from three-point range— three rebounds, three assists and three steals.
Jason's first trey came in the first quarter, giving Dallas a 5-0 lead early. The Mavs played some run and gun in the first, scoring 27 points on a lagging Denver team.
"We knew they got in late last night, so the way we started the game was getting out and running and getting some easy baskets," Jason explained.
But No. 2's other three triples came in the third quarter, when the Mavericks needed a scoring boost to finish off the Nuggets. Dallas led by 12 at halftime and pushed it to 14 when Shawn Marion scored to open the third. Moments later, J-Kidd stole a pass from former teammate Corey Brewer and knocked down a trey on the other end to increase the Dallas lead to 17.
Denver tried to make a run over the next few minutes, but the Mavs bounced back and led 66-47 with 5:30 to go. It was then that No. 2 put the game out of reach. Jason padded his team's lead by draining threes on back-to-back possessions to put the Mavs up by 23 with four minutes remaining in the quarter.
"We wanted to be aggressive coming out in the third quarter and got good stops and made some shots," said Dirk Nowitzki. "J-Kidd got hot and made some threes, so that was good," Nowitzki said.
The Mavs outscored Denver 32-15 in that pivotal third frame to put the game away. Coach Rick Carlisle said it was a good sign for the Mavs, who have struggled recently in the third quarter:
"We had a very good third quarter," he said. "The third quarter was key, because they'd gone on a 4-0 run to end the half and had a little momentum. The third quarter had been challenging for us."
No. 2's four three-pointers on the night tied his season-high that came, coincidentally, in one of the Mavs' other matchups against Denver on December 26.

CONUNDRUM AT THE POINT
Jason enjoyed a great deal of success on Wednesday, despite the fact that he played only 22 minutes.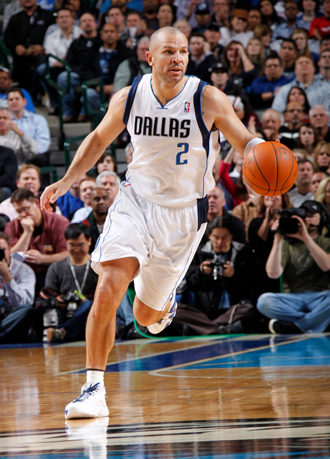 Rick Carlisle has been making a concentrated effort to keep the minutes of his starters down so they are fresh when the Mavs need them in the postseason. But things got more complicated on that front Wednesday night.
Reserve point guard Delonte West suffered a fractured and dislocated right ring finger in the victory and is expected to miss several games as he recovers. In the interim, Dallas will be shorthanded behind Jason at the point.
But Carlisle doesn't expect to increase Jason's minutes too much, even if it means digging deeper into his bench as he did on Wednesday when Dominique Jones played 30 minutes off the pine.
"We'll just have to make it work," Carlisle said. "With Kidd, we're going to have to keep his minutes reasonable. Dominique Jones is going to have to play some. Vince [Carter] is going to have to get more minutes at the 2 position. We had Odom handling the ball a lot tonight. Look, we may have to be creative with our rotation."
After the game, Jason said he wouldn't fight Carlisle on his minutes limit, but acknowledged that the Mavericks are pretty thin at the point position for the time being.
"We've got a couple point guards — Dirk, Trix, Cardinal, Lamar – so we'll be fine," Jason said mentioning the Mavs' frontcourt players, tongue-in-cheek.
J-Kidd added that he thought Jones did well for a guy who had played just two minutes all month entering action on Wednesday.
"But D.J. played great tonight. He hasn't played in over a month, and four points in thirty minutes, I thought he did well. He was attacking the basket and making all the right plays."
NEXT UP
With their homestand wrapped, the Mavs head off on a two-game road trip to the East Coast.
The trip starts in Philadelphia, where Dallas will take on a tough Sixers team that sits atop the Atlantic Division on Friday night. From there the Mavs head to New York to face the surging Knicks on Sunday.
Both games will be nationally televised, with Friday's airing at 7 p.m. CST on ESPN and Sunday's at Noon on ABC. Friday's game can also be seen in the Dallas are on Fox Sports Southwest.
RELATED STORIES