The All-Star break has come and gone, and there's a lot to reflect on as we move forward to the second half of the season. But I'd like to start this blog entry by thanking everybody for their kind words about my surgery—especially our Bucks fans that I heard from, wishing me a speedy recovery.
The messages were very thoughtful, and that's always appreciated.
It wasn't something I really wanted to do in-season, but it had to be done. My hip had been bothering me for a few years now, since the last of my playing days. I'd met with doctors before, and even back then they said it needed to be fixed. But because I transitioned right from playing to coaching, with no retirement and no down time, there was really no good time to do the surgery. So we just kept putting it off.
In doing that, I'd endured a lot of pain over the last couple of years. But more recently it had gotten to the point where it was almost unbearable, and I just couldn't take it. All the medication and everything that we tried to do for prevention just stopped working.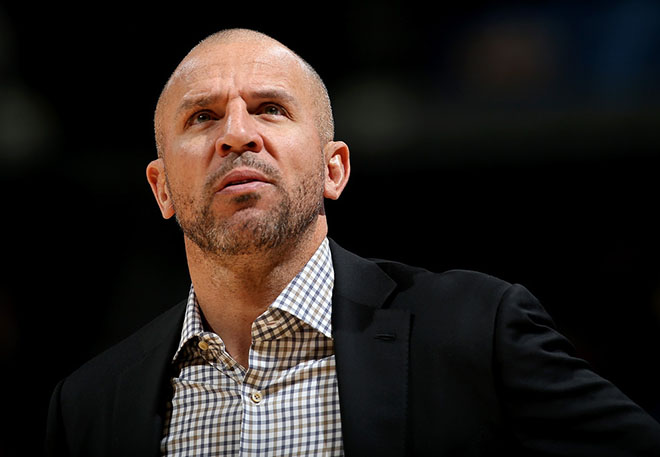 When that happened, pain became the norm. I tried to withstand it, but at a certain point, it just became too much. Once it became a constant and there was no break from it, I couldn't sleep. There wasn't any good position to sleep in. That's when I knew that we needed to address it as soon as possible.
I went to the Hospital for Special Surgery in New York back in late December, and had the surgery done by Dr. Edwin Su, the best hip surgeon in the country. We were lucky to be able to do it when we did, especially with Dr. Su's busy schedule. He went in and did a resurfacing of my hip. To do that, they had to dislocate the hip, trim down the bone and place a metal cap over it. Then they put a metal cup in to connect to it all, and that takes the place of the hip.
It's quite the procedure.
The only surgery I've had that I can compare to this one is the microfracture surgery I had about 12 years ago. I was on crutches for six weeks after the microfracture surgery. In this instance, I was already back on the sidelines a little over four weeks after the hip surgery.
It's amazing what they can do these days. Just a couple weeks removed from the surgery, I was already feeling great. I feel 25 years old again. It's incredible. I can actually get out and do things with my family that I hadn't been able to do for a couple of years. So that's been fun. I also made it back to coaching probably a little bit earlier than anticipated.
The thing that helped most to get me to that point was just listening to the doctors, following their game plan. It also had a lot to do with understanding what rehab means, especially when it comes to doing all the little things before you do the big things. They've plotted an entire course for me, a game plan, and I'm following their directions.
We were all a little bit surprised at how fast everything has healed. But the process isn't over. I'm still going for physical therapy, and we all have an understanding of where we are in the process at this time. Right now, I'm spending three days a week with the therapist, and in between those three days, I continue to ride the bike, swim, and do the elliptical as well. So it's pretty much five days a week that I'm rehabbing it, and then we tend to take the weekends to not do anything, just to give it a little rest.
Even though I'm back coaching, everybody still wants to make sure that we don't rush things. Traveling is a bit of a challenge, but it's gone better than I expected. Since we're still a little early in the process, Dr. Su brought up that we have to be very cautious of travel because of the potential for blood clots. So when we do get on a flight to a road game, I have to get up and walk around on the plane every so often. He's kind of emphasized some things like that to make sure that we understand how serious this whole thing is.
Hitting the six-week mark on the last road trip, and knowing that I was able to do a lot of different things pain-free, was a nice milestone. Now we're kind of looking at the 12-week mark, when we're hopeful I'll be able to jog and do different things at that point. But where we stand now, I'm healing pretty fast, and I'm very fortunate to be able to come back to coach a little bit earlier than expected. It goes to show that, despite all that I put it through over 19 seasons in the NBA, my body is still on my side (at least for now).
GOOD TO BE BACK
It feels really great to be back coaching the team again. I'm excited. For me, it's about trying to help this young team and put guys in a position to be successful. At the end of the day, I just want to see guys get better each time they take the floor. Hopefully, I can continue to help them do that.
I have to give a lot of credit to the coaching staff for the tremendous job they did in my absence. While I was away from the team, we were always in constant communication. We texted and spoke on the phone before and after every practice, as well as before and after the games. I shared things that I saw from where I was sitting, and they relayed things that they saw from up close. It allowed us to have good conversations about the team.
One of the things that is so great about our organization, and what allowed us to operate without skipping a beat in my absence, is that we do everything as a team. That goes for the coaching staff as well. Everyone is involved in practices and in games. We have a system and the way our system is set up, there's always a different voice. Because if players hear one voice with all the information we're feeding them, it can get a little boring and guys will tend to tune it out. So we have multiple voices in practice and in games. That has never changed.
As I watched from afar, I was proud of the group because win or lose, we were doing things the right way. I thought our defense got better, and we were sharing the ball more. Those two things definitely were a lot better. We also had a set rotation, so guys knew when they were playing, when they were going in and when they were coming out, which was helpful to the players.
I'm pretty hands-on with the team, so it's always hard from that perspective, because sitting in a different seat and watching it from from afar can be a challenge. It's definitely difficult, because I might see things during a game and want to get up and tell them, but I can't. Any time you have to sit out, and you're unable to be right there in the middle of the action, that's not fun. But the coaching staff and the players did a really wonderful job, being able to run the system and get better. So I was very happy with that.
That's all we're trying to do here, help these guys get better. We're the youngest team in the league and we're still trying to understand what it means to win and what it takes to win in this league. Part of that is just understanding the process, and that's exactly where we are right now. We're going through the process of becoming a team, and finding out what it means to win in this league, because it really is so hard to win in this league.
When I returned, my message remained the same. I gave them an honest assessment.
I think you can go a long way by being honest and up front, and that helps them hopefully grasp things quicker, and also know just where they stand. Things are not always going to go perfectly, but we need to be able to learn from our losses as well as from our wins.
A NEW SEASON
One of the things I make sure the guys understand is that we can't worry about last year's team.
Last year's team was different. We weren't the youngest team last year. We had different pieces last year that helped us win. This is a new group. This offseason we added Greg Monroe and then we're also adding Jabari Parker back into the fold. The guys are also still getting used to playing with Michael Carter-Williams, who we brought in a year ago.
We have some new pieces, and this season we've had some injuries. That's hurt us a little bit as well. So you have to allow the team some time to gel. Any time you're dealing with a very young team, especially at the pro level, it takes time.
That's why you can't compare this year's team to last year's. Foremost because of the age difference, but also because last year's team wasn't dealing with expectations. With a young team, we're dealing with expectations for the first time, and some of those expectations were extremely high. So how do you handle those expectations?
You find out a lot about yourself and your group.
The one thing I think the guys who were here last year can and should reflect on is just their energy and effort. "Did I put enough energy and effort in tonight's game or today's practice, to get better?" Any time you get to the playoffs and go through a stretch like we did after the All-Star break last year, where we changed the team and the landscape a little bit with a trade, it's a challenge. But I saw guys stick together. That's important, and I think those experiences from last year can definitely help the guys who were around.
But all these guys are coming to work every day and doing a really good job in the sense of trying to improve. They're working hard, and they want to get better. That's a great positive to build from. When you have a group of guys who come to work looking for those ways to get better, that's always nice to have around.
PROVING GROUND
It's been a challenging year for us as a group, but I've seen things in all of our young players to indicate that the future is still very bright for these players and this franchise.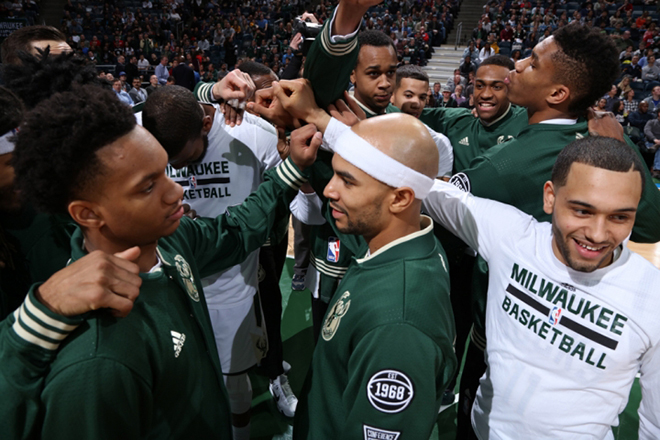 Khris Middleton has taken his game up to another level recently. He was a catalyst for us last season, and he really picked it up again over the last few months. He's nearing that All-Star level of play, and it's really fun to watch and coach a guy who is playing that well. He's made it better for his teammates, and he's made it a lot better for himself, too.
Jabari Parker and Giannis Antetokounmpo are two of our youngest guys, and I feel like they both have improved in different ways this year. With those two, you have to understand that they need minutes, and they need to play. They have to go through the ups and downs of learning what it takes to be consistent in this game, and they're both still right in the middle of that.
It's especially important for Jabari because he got so little time as a rookie. You also have to take into account that he is coming off a major injury, so we're still trying to get him back into the swing of things, and find a comfort level for him. It's almost like still being a rookie in terms of understanding the NBA game. Right now for Jabari, it's just important to see him grow and get better every time he takes the floor. He's a guy who can score the ball and he's very unselfish. He is a great young man to coach, and he wants to win, so he's been a lot of fun to be around.
With Giannis, you just look at the fact that last year he got better, and then this year, he's still getting better. He has improved across the board. It speaks to his work ethic and his constant professionalism, and being a true pro who wants to be a very good player in this league for a long time. He definitely puts in the time to do that and it shows.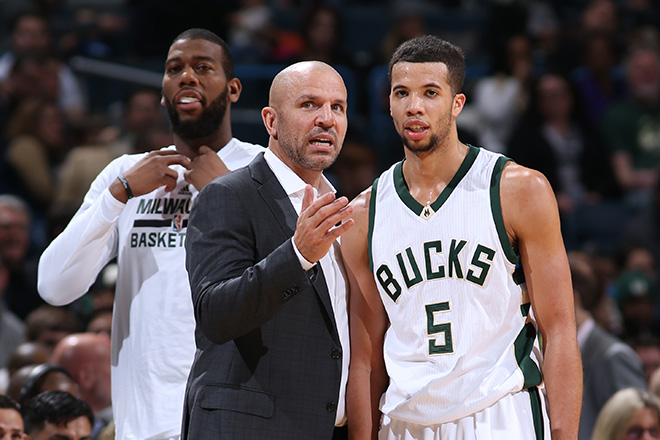 I really like what I've seen out of Greg Monroe. He's come in here and become one of our leaders in a short period of time. He has a very high basketball IQ, and he understands what the team needs during certain parts of the game. He's a playmaker. He does so many things for us, rebounding and consistently scoring points, which we've needed. He has a skill set that's deadly for us in the post, and he has done everything we've asked of him, so that's been great.
The leadership stands out with Michael Carter-Williams as well. That's so vitally important for a point guard, because he is the guy who has the ball a majority of the time. So he has to be able to set the table for his teammates, and also for himself. Still being one of the youngest starting point guards in this league, I think he is learning how to do that. The way he's been able to run the team has been impressive. He understands what the team needs from him throughout the game, and that can vary from game to game, even quarter to quarter. That's an important thing to grasp, and he's done a really good job with that. And then you look at the defensive end also, he is playing at a very high level for us defensively.
Defense and sharing the ball are two building blocks of what we want Milwaukee Bucks basketball to be. We always talk about defense in this league and the team that tends to be one of the top defensive teams tends to always find their way into the Finals, or at least find their way into the playoffs. So for us, we feel we've got to get back to playing defense at a high level.
If we're going to get where we want to go, that's where we need to start.
In those last two games before the All-Star break, I thought we finished the first half on a positive. That was important. We built some momentum to carry into the second half.
We all still believe that we can make the playoffs, but I don't think we're looking at the standings. We know where we stand. We have to take care of our business and focus on ourselves before we can start scoreboard watching. We just have to get healthy and start playing a little bit better on defense and execute our gameplan on the other end. We've shown we can do those things.
The first half of this year has built in a greater understanding that we're not going to win every game, and that we're not always going to play our best game. But how do we learn from that? And do we understand what we have to do better going forward? That's where we can gain something, even from the losses. It's hard to be consistent in this league and that's what we're striving for, like every other team: to have that consistency.
Growing pains are just a part of the process, as is understanding that things aren't just given to you. At the professional level, everybody wants to win, and you have to realize that. It's just a matter of being able to stay together, be positive, and understand it takes hard work.
We have a great group of young men who work extremely hard. In the end, our success will come from sticking to the game plan, and doing things as a team. I hope our Bucks fans understand that we're going through the process, and that we're going to continue to keep pushing forward to get better.