It's been about a month since our season came to a close here in Milwaukee, and when you look at our year on paper and in the standings, it's easy to just say, "The Bucks took a step back."
But from inside our organization, we see things differently. We saw a lot of progress by a talented young team.
When we start a new season, we always try to use the past as a measurement. How can we improve? Can we do more than what we did last season? We obviously didn't do as much last season as we did the year prior, when we made it to the postseason.
But it's important to understand when you make that comparison that we're talking about two different teams. We weren't a young team the year before. We were a veteran group. When we took those veterans away, we had a roster of guys who hadn't learned how to win in this league alone, without the help of veteran leadership. I still thought they did a really good job of competing on a nightly basis. So looking at it that way, we took a step going forward.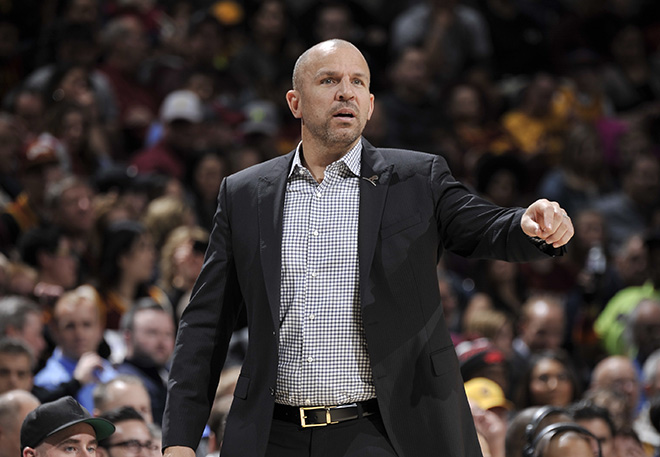 Experience is big, and having both experiences—going to the playoffs last year and missing them this year—is going to be valuable for our core guys going forward. It's not easy to make the playoffs. You have a lot of talented teams and a lot of talented individuals in this league, who all want to win. It takes a team to win, and we're developing that.
We all would have liked our record to be better, but it wasn't, and we had to keep fighting. And that's what this group did, no matter who was playing. For us, it became about trying to get better on a nightly basis. When things aren't going the way you hope over the course of a season, you have a revision of goals. Goals can change throughout the week, week-to-week, or month-to-month.
If your record isn't what you thought it could be, you have to ask, "What can we do as a team?"
POINT GIANNIS
With that being said, as the season went on and the playoffs became something that was out of reach, we started trying some different things.
We put Giannis Antetokounmpo at the point guard position, and I had him handle the ball for the second half of the season. That worked out very well and we all thought he did a really good job. Giannis took a step forward in terms of understanding how to run a team. It's not an easy thing to learn, and he's going to continue getting better.
It was something we'd actually been thinking about for a while, since I became head coach of the Bucks. We tried it in training camp and preseason that first year, and it didn't really work out. But we came back to it, and it helped him. He was engaged on both ends of the floor. It got him in the open court, which highlights his natural abilities. One of his strengths is being able to find guys, and he did a really good job with that.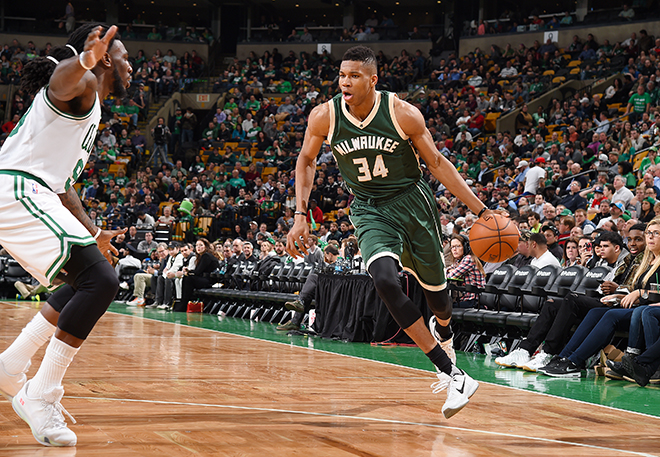 Being able to see the floor the way that he does makes the game easy. It makes it exciting for his teammates because they all know they have a chance of getting the ball. Being as tall as he is, he has so many natural advantages. His skill set —to be able get into the paint and finish— puts a lot of pressure on a defense.
There are still plenty of things he has to learn, and hopefully, as a point guard myself, I can help him understand game management—the importance of time and score, and just the little things it takes to be a good point guard.
But he's in a good position just being the way he is. His competitiveness, his willingness to work, those things tell me this is going to be fun. He works extremely hard, he puts a lot of time into the game. He's a competitor. He wants to win and he wants to be great.
It's just a matter of time before he's an All-Star on a consistent basis.
ALL-STAR POTENTIAL
Another player on our roster with All-Star potential is Khris Middleton. He got off to a slow start, but after a couple of months of feeling things out, he started to play at a high level. He had a stretch this season where he was playing at an All-Star level, and the numbers he was putting up were right there with some of the top guards in the league.
He has a tremendous understanding of the game, and his shooting ability is excellent. But he's more than just a shooter. He's really a dynamic player, being a bigger guard who is able to post up and play inside and out. And this season, he really improved in terms of his playmaking skills and showed that he's able to find the open guy and deliver the pass.
So hopefully, he has a great summer, and is going to be ready to play and be consistent at that level going into next season. For him and for everybody, the key is being consistent. That is one of the hardest things to do for a young player in this league for 82 games. It's truly a marathon.
I thought by the end of the year, Khris was getting closer and closer to that level of consistency on a nightly basis.
The same can be said, I think, of Jabari Parker. After working his way back from a devastating injury, he really showed us what he is capable of down the stretch. The important thing to remember is that last year was basically his rookie season. His first year was cut short with the knee injury, and coming back from that, it took him some time to gain his confidence back early on.
After the All-Star break, he was a different player, a different person.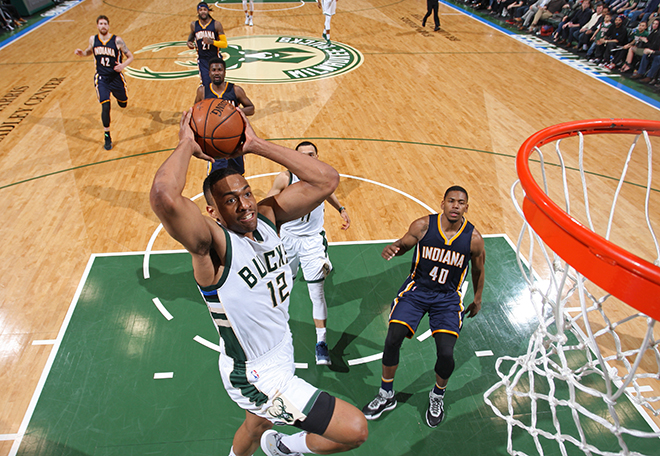 You could see his confidence skyrocket. With Giannis playing the point, you could see that both their confidence levels had taken off, and that they could play really well together. Just playing this whole season at a high level was a milestone for Jabari. Being able to play that many games is a lot different at this level than it is at college, and he did a really good job of coming back from his knee injury, playing in a majority of the games, and ended the season playing some of his best basketball.
He's a winner. He wants to win. He wants to do the right thing—not just score the ball but find a teammate, make a play for a teammate. His work ethic is tremendous as well. He's another guy who spends a lot of time in the gym, playing and working on his game.
FROM FAWNS TO BUCKS
Now it's our job to continue to develop and put Giannis, Khris and Jabari in position to have continued success. We understand and value the fact that we have a strong young core, even beyond those three players.
We got a chance to see Rashad Vaughn get more minutes and make some progress. Tyler Ennis played more and played very well, Miles Plumlee took a big step forward for us, being able to start for a while and then also coming off the bench for us.
The thing that stands out about Miles, aside from the fact that he has great athletic ability, is his work ethic and commitment to the team. Playing behind Moose and John, he wasn't getting much playing time early and he could have let that get to him. But he kept coming to work ready to contribute every day, being a true pro, working on his game and being patient. He worked hard and earned an opportunity, and then he took full advantage of that when it came his way. He is someone we can hopefully bring back to help us again next season.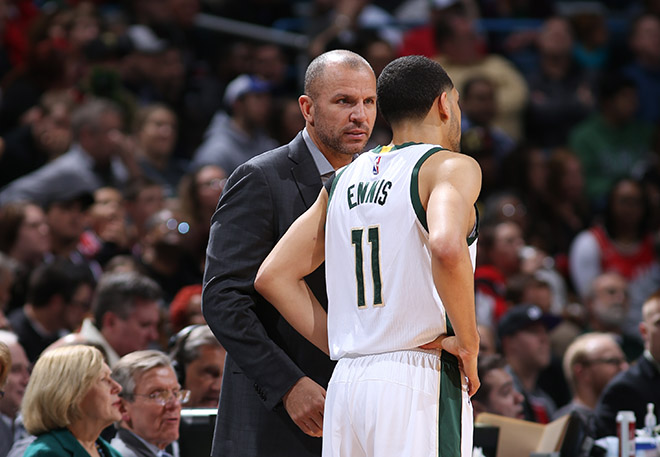 It was sort of the same thing with Tyler. He wasn't getting much of a chance to contribute early on, but we had a lot of injuries at the guard position. He took advantage of his time on the floor when it came, and we really saw him take a step forward.
Those two guys are a blueprint of being patient and being true pros, and continuing to work on their game. It always works out if you're just patient and you do the right thing, and those two did all season. With some of the injuries, they took full advantage of their playing time. As a coach, it's huge to have guys like that on your roster, who can show patience and come to work every day. And when you call on them, they respond in a positive way. That's important for our whole team, not just for the coaches to know, but for the players to be aware of as well. When you have guys like that who you can rely on when things get tough, it's really big.
Another guy who we were really able to rely on was Greg Monroe.
Moose was really stable and consistent for us throughout the year, and he was a big reason why we were the No. 1 team in the league scoring in the paint. We know we can lean on him if we need to. He wants the ball and we can work through him in the post, and he really helped us throughout the year. For all of our guys, that was their first year playing with Moose, so there was a learning curve. We're only going to get better over time. With posting Moose and playing through him in the paint, our interior is very good.
Our next step is to be able to do that, and have a balance with shooting the three, too. That's where the game has gone, and that's where we need to go. Right now, we're at our best in transition. Being able to score the ball in transition, make a play for a teammate, sacrificing, maybe passing up a shot to get a better shot—that's our identity offensively. And then defensively, getting deflections, steals, and rebounds, and being able to start the break, that's where our strength is.
Now, it's about adding that long-range shot. The guys are going to work on their games this summer to get better. And with time, we're going to become a better team. We understand that just one or two guys can't do it, that we need everyone to help win because it's hard to win in this league with just one guy. We think with everyone playing a lot of minutes together down the stretch and getting some rhythm, they're only going to get better as time goes on.
MY OFFSEASON
While the players are working on their game, I'll be doing the same. I just finished my third year as a coach, and it has been a learning experience from day one: Learning how to be patient and to teach young players, understanding how hard it is to win in this league as an organization.
I'm always looking to get better, to see what I can do to help our team to reach our goals. One of the things I'm doing is going through tape of the season and looking back. I know our defense took a step back, so one of my questions this offseason is, "What can I do to help us get better defensively?" When the guys are on the floor, I want them to be confident that they can achieve their goals defensively. Maybe it's substituting defensive assignments, maybe it's offensive play-calling. I'm looking at everything now so I can put my guys in better positions to win.
That's what the process of summer is for, and then we'll come back at the beginning of next year with new goals, and see if we can achieve them. Going through the ups and downs, and sharing that same vision, makes you appreciate it that much more when you achieve it. That goes for players, coaches and the front office. They all work really hard to bring the right people into this organization.
John Hammond and those guys have been scouting all year, and will put us in a position as we get closer to the draft and free agency to have a better understanding of who we like, and what we want to do to improve our team.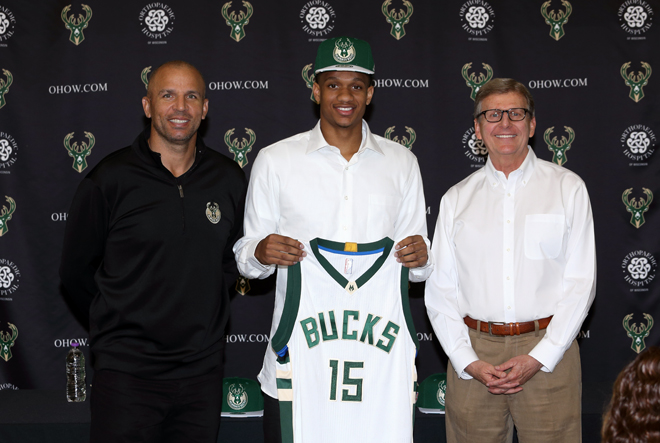 I think John and I have been a pretty good team together. The things that have been reported about my relationship with him simply aren't true. He and I have a great relationship. When he has asked for my input, I have given to him, and that's that. All the speculation about me wanting to be the general manager of the franchise is totally false.
John has done a great job of being the GM here in Milwaukee. I have total respect for what he does for this organization. I understand the success that he's had, and have enjoyed learning from him. He's been in this business and been doing it for a long time. He won a championship in Detroit, so he knows what it means and what it takes to build a winner. And because he has also coached in this league, he's seen it from that side, too. We both come to the office everyday to continue to look at what we can do going forward to get better as a team.
Though we're working hard in the offseason to find those ways to be better, I'm also enjoying what time I do have out of the office with my wife and our children. The kids are great. They're in school and are keeping us busy with soccer and baseball. Aside from that, we're just here enjoying Milwaukee. It's a lovely place to raise a family.
Physically, I feel great. The surgery I had during the season has helped me feel a million times better. It was something that needed to be done when it was done, and Dr. Su did a wonderful job with it. The rehab has been great, so I have had no problems being myself again. With that behind me, I'm ready to continue working toward getting this team better for next year.
We're all thankful for Bucks fans who come out and support us every day. We understand that we fell short of our goal, but we will come back better from our experience this past season. We look forward to having you out there at the arena cheering us on.
Just because we didn't attain our goal last year doesn't change anything. We're still reaching for that ultimate goal, and that's first to make it to the playoffs next season, so we can all enjoy that and play for that gold trophy. The ultimate goal is to win a championship, and we're going to do everything in our power to win it.