We're only a few games into the 2016-17 season here in Milwaukee, but we've already seen how important each member of our team is going to be to the squad.
Giannis has been excellent so far and Jabari looks poised to build off his second half last season. We're going to rely heavily on those guys to be playmakers. But they can't do it alone, and our depth is going to be a key to success this season, there's no doubt about that.
We dealt with some adversity going into this season, when we lost Khris Middleton to injury, and that was really unfortunate. However, the timing of the injury did allow us some time to look at different guys at that position. So we didn't panic. We've looked at it as a great challenge for guys to step up.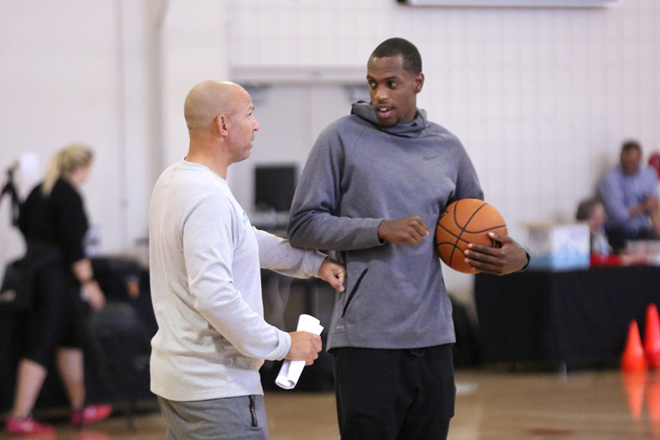 Khris was in great shape. He was ready to go, mentally and physically. We were expecting for him to build on what he did last year. But this is just something we have to overcome. We've always talked about it as a team. We're not built around one guy. This is next guy up. And while losing Khris is a blow, that doesn't mean we can't still be successful and we can't still win games. We have to play hard. Those are the constant things. Our energy and effort have to be high at all times. We can't replace Khris, but hopefully by committee, we can pick up the slack.
Rashad Vaughn could be one guy do that. We also brought in Tony Snell, and we have some versatile young players in our backcourt, so it's going to be done by committee.
Rashad is a guy we'd really love to see step up. He was a rookie last year, and he had a tough time. But that happens sometimes. As a rookie you're often in the dark and don't know what to expect. But I can see now that he kind of has a feeling of what's coming next and that can only help. I also think his confidence is up, because he knows what to expect. He's grown over the summer and his work ethic is at a high level right now.
Now it's just about applying that in games and having some success he can build on like he did on last Saturday. We know he can shoot the ball and he can stretch the defense. But he's not just a shooter. He can put the ball on the floor and get to the basket. He got in the weight room this summer and he's gotten stronger. Now he has to take advantage of that. And I think being a little bit stronger will definitely help him on the defensive end.
Our most recent draft picks are going to be big pieces to this team as well.
Thon Maker hasn't seen much action yet, but what we've seen from him in training camp and practices has been great. He plays hard on both ends of the floor. We're very happy with him. He's a rookie. He's going to make some mistakes. But his work ethic stands out. He asks a lot of questions and he just wants to get better. I think what he can bring for us this year, beyond skill, is relentless energy and effort. He goes nonstop. He plays to the whistle and that's good to see for a young guy. He also has the ability to stretch the defense. He can shoot the ball. And for a seven-footer, he's very comfortable putting the ball on the floor.
Then you have Malcolm Brogdon, and I think he is a special rookie. You look at his demeanor on the court, he understands how to play. He competes. He always wants to get better. He asks questions about what he can do to get better and works extremely hard. We're lucky to have him because he can play multiple positions. We played him a lot in the preseason to see how he would do as a rookie. He is always up for a challenge.
In addition to our young guys, this team has a lot of vets, guys that have been there before, that I believe will provide balance and leadership. We didn't have a lot of that last season.
You start with Jason Terry, and when you look at his resumé, it speaks for itself. He's a true pro on and off the floor and we need someone like that, who is able to just shoot the ball, understands how to play basketball, and has a voice. My respect for Jason is obviously very high. We won a championship together. I've played against him. I've coached with him and against him. I think he's a guy who I can communicate to the team through in different ways. So we're very lucky to be able to have him.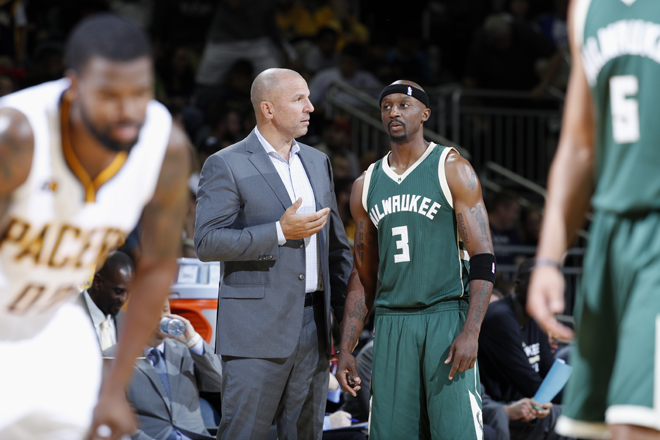 But Jason also has a lot left to give to the game and he knows how to play the game the right way. He's always a guy who is high-energy, and you've always got to be accountable when he's on the floor, because he's dangerous and he loves to play the game. He understands how I like to play the game, so I think that definitely will be a plus for us.
We're also lucky to have Delly. He's a culture guy who can change and only better the culture of your team. He just won a championship. He understands what it takes to win. It's hard work. It's working every day, by watching film, by working on the floor, doing the little things. He has also played with the best players in the world, therefore he can use those experiences with our younger group to help them get better.
On the floor, he can run the team from the point, or he can play off the ball. He's able to stretch the defense out to three. His play-making skills are at a very high level. He's not afraid to set a screen. He knows how to play basketball. He's a tough-nosed kid who doesn't back down from any challenges. And he understands how to play defense in this league. He understands how to get guys in position to play really good team defense and he is a true team leader, a guy our young core will be able to learn from.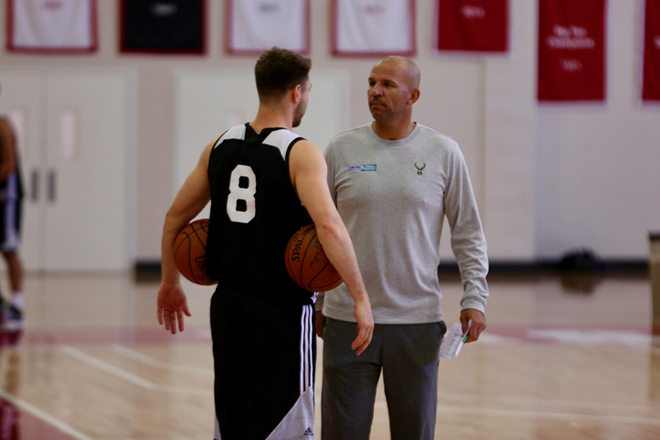 We also brought in Mirza and Beasley this offseason, and I believe both will be important to our team. Mirza brings some leadership with his veteran voice, which will only help in the locker room. And then his ability to score and shoot from behind the arc, it gives you space. He's a guy who is not afraid and will compete on both ends, and that's important for us. Beasley has been great too, with his energy and effort. He has come in being able to score the ball, find guys and be a playmaker. He is going to help us rebound the ball. We have been very happy with the addition of Beasley, not just from a scoring perspective, but his voice and his competitiveness.
Up front, I think we have three centers in Greg, John, and Miles who are capable of starting or being very good backups. That just shows how deep we are at the center position. Any of them could start. Any of them could be a backup, but there's going to be someone who doesn't play.
There's only 48 minutes in a game and someone has to be patient, and it can only help the team with our depth. So we're going to ask them to be patient. You've got to be prepared. If someone does get hurt, you have to be ready. You have to be a true pro. If you don't play one night, you just have to continue to be ready in this league because, I think we all know, injury can happen. And when it's your turn, you have to be ready when your name is called.
That's the key all around this team. Overall we've gotten deeper. Our depth, we feel, is going to be one of our pluses. I think when you have a bench, you can do a lot of things lineup-wise. Injuries come into play; fatigue comes into play. So if you can go 11, 12 deep, it just makes you that much better prepared for the marathon. I think we're ready for it this season.