As the Milwaukee Bucks currently sit in the ninth spot in the Eastern Conference, head coach Jason Kidd is excited that his team is picking up their level of play at the most opportune time.
The Bucks pushed their winning streak to three games on Monday night after defeating the Philadelphia 76ers 112-98.
"They're playing defense at the right time of the year. The month of March, when everyone is trying to play their best basketball going into that next season, so for us our playoff season has started now," Kidd said. "We have to get as many wins, but it starts with our defense and the way we're sharing the ball I think we came close to getting another 30 assists. So when the ball is moving like that and guys are making shots it's fun to watch."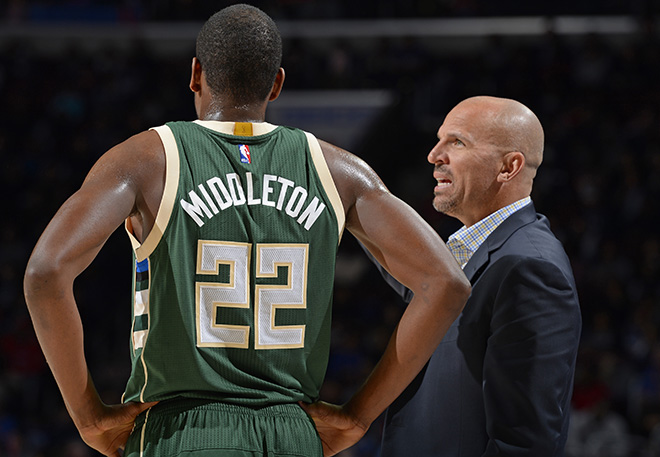 Milwaukee played a strong first half defensively, leading to a comfortable 17-point halftime lead.
"I think it always starts with our defense," Jason said. "When we have the intent of rebounding the ball and going and getting out in the open court, our ability to play-make and find guys, that can start with Giannis or Malcolm or Khris and we did that tonight to start the game and I thought we did it for 48 minutes."
Giannis Antetokounmpo led all players in scoring with 24 points and added eight rebounds.
"Giannis' feel and understanding of time to score has grow," Jason said. "He's not forcing things, he's learning how to play off his teammates and we've seen this before when he's six, eight points and he comes back with a big second half offensively. That just shows a sign of leadership and also just understanding what the team needs."
While Khris Middleton only scored 13 points, Coach Kidd was pleased with his playmaking abilities that resulted in eight assists.
"Yeah I think we talked about it before the game; we talked about Khris, his ability to play-make, to score the ball, to be in the right spot on the defensive end and tonight he did that," Jason said. "He wasn't making shots but that doesn't stop him from playing and he found guys. I thought he was a big impact for us on both ends."
Tony Snell stepped up to help fill Middleton's scoring void, producing 21 points on 8-of-11 shooting and 5-of-7 from behind the arc.
"Tony has been great for us from day one since we've gotten him at training camp, so to be able to have him knock down shots, he's been doing that, he's shooting over 40 percent," J-Kidd said. "But we always talk about his defense and sometimes his offense is overlooked but he's playing at a very high level for us at both ends and tonight was no different."
Milwaukee is without a doubt in playoff contention, and with 20 games to go has a tough challenge ahead of them. As Kidd said, essentially the Bucks playoff season has already started, and he knows they'll need quality minutes from everyone.
"I think it's great that they all believe that they can make this push and it's going to take all of us, not just one guy. We can't just rely on Giannis or Khris. Everybody has to chip in and it starts again on the defensive end," Kidd said. "This is a big win for us on the road. They play hard and they can make shots and they can beat you. We've seen that twice in Milwaukee, so for us to get this on the road and now go back home and protect home."
The Bucks will look to make it four wins in a row on Wednesday night when they host the New York Knicks.