After defeating the Philadelphia 76ers on Monday night, Milwaukee Bucks head coach Jason Kidd said after the game that everyone on the team will need to step up and not just Giannis Antetokounmpo if they want to make a playoff push.
While the Bucks will need a full team effort to make that postseason run, The Greek Freak showed his coach once again that he can shoulder a large load. Giannis scored 22 of his 32 points in the second half to help Milwaukee overcome a double-digit third-quarter deficit to pick up a 104-93 win over the New York Knicks.
"I thought he was aggressive. He didn't settle. We ran a play there pretty much through the fourth quarter between him and Delly and pick-and-rolls and he took what the defense got him. But I thought in transition he got out and ran without the ball and the guys found him," CoachKidd said. "Being able to get to the free-throw line, he probably would like to be able to shoot it a little bit better, but just getting there, the next jump for him is being able to capitalize. You look at the stars in this league, they get to the free-throw line. You've got quite a few of them shooting over 10 a game so when he can do that on a consistent basis that's just going to take him to another level."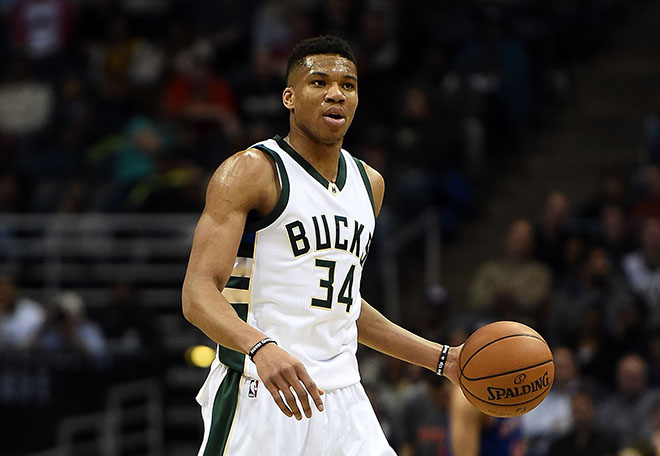 In addition to his game-high 32 points, Antetokounmpo added 13 rebounds, seven assists, four steals and had 13 free-throw attempts.
As a team Milwaukee made 22-of-28 free-throw attempts, while the Knicks were just 8-of-12.
"I thought for us getting to the free-throw line also kept us in the game and also to build the lead. By getting to the free-throw line, shooting free-throws and getting stops on the other end, I thought the guys did a great job. Also I thought the guys executed the gameplan," Jason said. "(Derrick) Rose was going but he was shooting twos and when he's doing that, we live with that. It took the ball out of the other guy's hands and it also took out the three for us. He only missed three shots but that was the gameplan."
Rose finished with 26 points on 13-of-16 shooting; however, J-Kidd was pleased with the effort Matthew Dellavedova gave him on defense.
"For Delly to understand he executed the gameplan, everybody on the floor executed the gameplan and with his pride he had to take it and hopefully our younger guys can learn from that," Kidd said. "It's not a one-on-one game; it's a team game and that was the gameplan and he followed it."
Milwaukee limited New York to 17 points in the third quarter and 20 points in the fourth.
"Well I thought our defense from the start of the game was good and then I thought we relaxed a little bit. We got stops and then we started to score. We might have just thought it was going to be a little easy, New York keeps playing; but there in that third we had a lid on the basket kind of like when we started the game here the other night against Toronto," J-Kidd said. "But the defense, we kept playing. That's what got us the lead was our defense, even though we put the ball in the basket on the other end. Eventually we missed a couple bunnies, but we kept competing on the defensive end and that's what held us to stay in the game and then eventually take control of the game."
Jason Terry played 30 strong minutes off the bench for coach Kidd, scoring just four points but adding seven rebounds and three assists.
"You talk about a basketball player who's I.Q. is extremely high and who knows how to play. He competes. He's a winner," J-Kidd said of Jet. "Even though he didn't make a lot of shots tonight just his energy could become contagious. And then we'll talk about his defense, he got a couple steals, high hand deflections, rebounds. He understands where to be on the floor at the right time and we'll have to go get some jet fuel to make sure he's ready to go on Friday."
The Bucks have now won four in a row and are right in the thick of the playoff battle for the six through eight seed in the Eastern conference.
They'll look to make it five in a row on Friday night against the Indiana Pacers.