The Milwaukee Bucks have had some trouble over the years playing in the Staples Center, but Jason Kidd's group snapped the skid.
Losing eight straight games to the Clippers in Los Angeles, the Bucks got their first win in the Staples Center since 2007 on Wednesday night 97-96.
"It's that group," Jason said. "It's their chemistry. They're just pros. They've worked extra hard and they're a team. They don't rely on one person and that was evident tonight."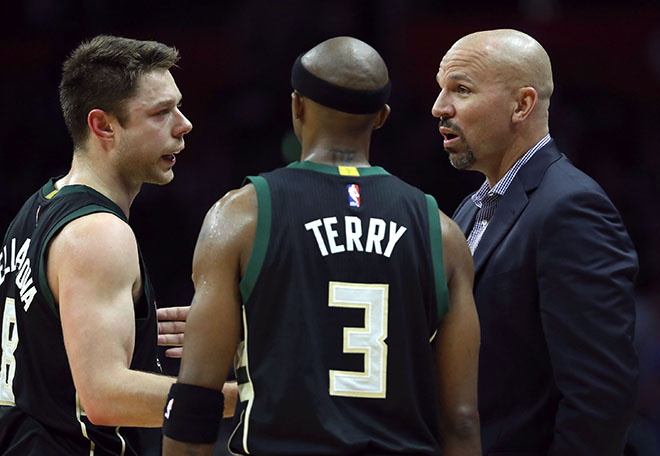 The Bucks had six players in double-digits, including Matthew Dellavedova off the bench, who made a crucial 3-point field goal to give the Bucks a 97-91 lead with 1:17 to play.
"Delly made some big shots for us tonight," Kidd said. "We understand what position we're in now, fighting for the playoffs. We were playing a very talented team in the Clippers and to come here and get a win is big."
It was a close game all throughout, with the game being tied at halftime and early in the fourth quarter. The Bucks took a 79-77 lead with 7:16 remaining on a Jason Terry jumper and never fell behind again.
The Clippers had a chance to win the game down one with five seconds left, but Blake Griffin missed a heavily contested floater near the basket as time expired.
"We thought they were going to try to get the ball quickly to Blake or to somebody who was going to come open," Jason said. "They only had 5 seconds. I thought Delly fought him and did everything possible to make it tough. The ball didn't go in and we found a way to win."
Giannis Antetokounmpo and Khris Middleton both scored a team-high 16 points for Milwaukee.
Deandre Jordan was the leading scorer for the Clippers with 22 points and he also added 17 rebounds.
Up next the Bucks will return to a familiar territory, as they play the Los Angeles Lakers back at the Staples Center on Friday night.