Jason Kidd's Milwaukee Bucks nearly had a perfect two-game trip in Toronto to open the Eastern Conference playoffs.
After a decisive Game 1 win, the Bucks found themselves in a 100-all tie late in the fourth quarter against the Raptors, but those critical game-winning shots didn't fall for Kidd's crew in Game 2, as they fell 106-100 at the Air Canada Centre.
"It's tied 100, and for us, we're in the ballgame. This is what you want with three minutes left," Jason said afterward. "We rely on our defense and then on the offensive end being unselfish and making a play for a teammate. Tonight we just didn't cross the line. We got some great looks, they just didn't go down."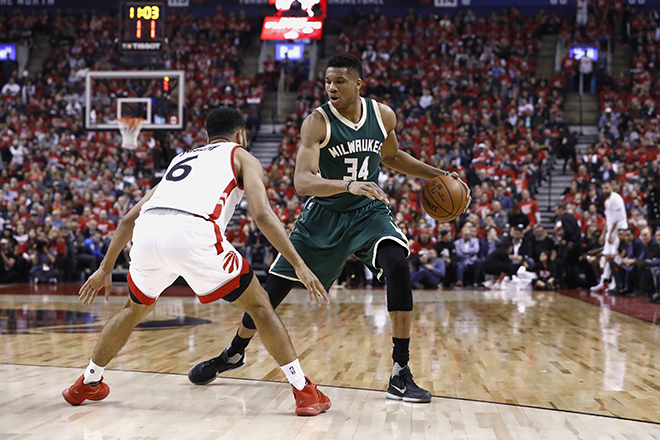 Giannis Antetokounmpo tied the game at 100 with a clutch trey from the top of the key. But Milwaukee simply couldn't get another shot to fall in crunch time. On the ensuing possession, DeMar DeRozan hit a tough mid-range jumper to put the Raptors ahead. Then with eight seconds left, Lowry made it a four-point lead with another difficult long two-pointer.
Milwaukee had a great look to bring the game within one, but a Malcolm Brogdon t3-point attempt went in-and-out.
"It would have been easy to let go of the rope because we got down," Bucks coach Jason Kidd said. "We had an opportunity there. The ball goes halfway down and comes out. That's just basketball. It can be nice or it can be cruel."
While the Bucks were unable to come away with the victory, they showed a tremendous amount of grit and determination, fighting back from a 12-point deficit in the fourth quarter.
"I give those guys a lot of credit in that locker room; they kept fighting. That game could have gone either way down the stretch," Jason said. "But Toronto won, and now we've got to see what we can get better at. There are a lot of areas we have to (improve) if we want to protect home."
Solid defense in Game 1 allowed the Bucks to get out in transition, an area the team thrives. But the Raptors were more efficient shooting the ball on Tuesday night, especially from beyond the arc.
In Game 1, the Raptors shot just 5-of-23 from three. In game two, they shot 14-of-29 from beyond the arc.
"They made more 3s by halftime than they did in the whole game in Game 1," Kidd said. "We've got to get those guys off the 3. That helped them. They had everybody back. It helps when you make shots. They made shots, they slowed us down and they made us play in the half-court. And for that we have to look at the video and see how we can get better in the half court by moving the ball, but again when you take the ball out of the net your pace will slow down naturally and we've got to get back to the open court and running and getting Giannis and guys in the open court being able to get down hill."
Antetokounmpo was the leading scorer for the Bucks, finishing with 24 points, 15 rebounds and seven assists in 42 minutes.
It is essentially now a best of five series, with the Bucks having home court advantage. If Milwaukee can take care of business at home, they'll be in great shape.