The season ended earlier that the Milwaukee Bucks intended, but head coach Jason Kidd walked away from a Game 6 loss to the Toronto Raptors filled with pride for his team.
The Bucks showed tremendous grit and determination on Thursday night as they overcame a 25-point deficit at the BMO Harris Bradley Center, looking to stay alive in the first round of the Eastern Conference finals. But the Raptors recovered with a 9-0 run and a 92-89 win to clinch the series, 4-2.
"Both teams played their hearts out," Jason said. "We always talk about the little things, and for us it comes down to free throws. It's not that hard. We don't need to overanalyze this; we got to the stripe and we just couldn't capitalize on that. It was a well-fought series. Both teams fought as hard as they could and Toronto was the better team."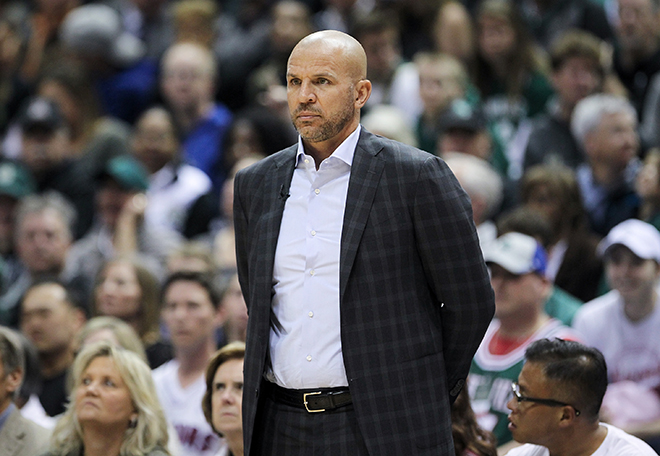 The Bucks were just 18-of-28 (64.3 percent) from the free throw line, including seven misses in the fourth quarter.
Giannis Antetokounmpo played all but 81 seconds, scoring 34 points and grabbing nine rebounds.
"The opportunity presented itself and we played him as much as we could," Kidd said. "I thought he caused a problem when he was out there on the floor. We were down, and those guys that played in the second half fought. It was a great character game. We take the lead when most people thought the game was over. It just shows they are maturing and they didn't give up."
Unfortunately, it wasn't enough for the Bucks to come back and force a Game 7. But with that being said, it was still a terrific season for coach Kidd and his young squad.
"They fought all year, not just in Game 6 but throughout the season," J-Kidd said. "These guys never give up, and this is a perfect example of that."
While the end result was not what they were hoping for, the only two unrestricted free agents on the roster are Michael Beasley and Jason Terry, meaning the team brings back its nucleus and the chance to continue to improve.
"The one thing I said over and over when we were down, 'It's going to hurt if you want to win,'" Jason said. "I think they understood after the game what that comment meant. I continued to say it as we came back. 'It's going to hurt, so just accept the pain if you want to win. If you don't want to accept the pain, then sit here on the bench and we'll put someone else in.' And those guys kept rising to the occasion. And it hurt, but it hurts to win in this league."
The Raptors, once a young team with much promise, resemble what the Bucks aspire to be: a young team with stars that don't get the media attention of a Lebron James, Russell Westbrook or James Harden.
Antetokounmpo has the ability to become one of the game's elite, and he's well on his way after making his first All-Star appearance. Rookies Malcolm Brogdon and Thon Maker have huge potential as well, while Jabari Parker and Khris Middleton have shown they too can be elite when healthy.
Today is tough as a Bucks fan, but as coach Kidd said, "It's going to hurt if you want to win." Today it hurts, but the Bucks appear to be on the winning track for many years to come.