He missed his sixth straight game on Wednesday due to a calf strain, but Jason Kidd is on the comeback trail.
If all breaks right, his return may come this Friday night.

No. 2 is eyeing a return to the court on Friday night against Ricky Rubio and the Timberwolves (Getty Images).
J-Kidd told reporters after Wednesday's 105-95 Mavs win over the Nuggets in Denver that he plans to participate in full at Mavericks practice on Thursday with his sights set on a return to the hardwood on Friday night against the Timberwolves.
"We had a good day today," Jason told ESPN Dallas. "We'll see how I go tomorrow in practice. Then, if I feel good, we'll give it a shot Friday. If not, there's no timetable right now. We just want to make sure I'm 100 percent before I come back."
No. 2 has been taking extreme measures in his recovery from the calf strain, suffered in a Jan. 27 win over the Jazz. He told the guys from The Ben & Skin Show on 103.3 ESPN Radio Dallas that he was experimenting more with cryotherapy— a favorite of the Mavs during last season's play off run— in addition to the traditional rehabilitative exercises.
Cryotherapy, a relatively new procedure, involves using extremely cold temperatures to mitigate inflammation in muscles, tendons and ligaments to amplify and speed up recovery time in athletes. The process is similar to an ice bath, in that Jason stands in a giant tub, but rather than being submerged in water, he is subjected to swirling frigid air that brings the temperature in the chamber to a chilly -300 degrees.
"It's not as bad as getting in the cold tub — that takes you at least two or three minutes just to get in the cold tub," Jason told Ben and Skin. "This is a process where you step in the tube, and you're in there for two and a half or three minutes, and [then] you're out and you feel great."
The science behind the therapy is relatively simple: the subzero temperatures force J-Kidd's blood to draw into his core to protect his vital organs, rather than regulate skin-surface temperatures.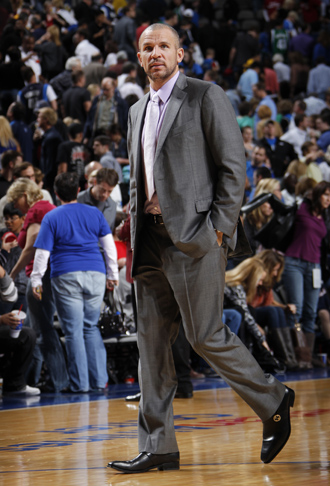 When the blood is drawn into the core by the temperature shock, it absorbs additional oxygen and nutrients that are redistributed throughout the body once he emerges from the tub.
Jason called cryotherapy the Mavs' "secret weapon" during last season's playoff stretch.
"I think cryotherapy is excellent for anybody, not just athletes…. I tried it out in April and I felt great throughout the playoffs," he said. "That was a perfect example of what we did last year as an older team being able to win a championship…. I think it's gonna be in every locker room and probably [on] every campus because of what it does to the body, how you feel, and the success rate that it's had so far."
Though he uses cryotherapy two to three times a week, Jason won't be nixing the old school method of using ice packs any time soon, because the body can build a tolerance to the cryotherapy procedure if it is used too much, lessening its effects.
"I mean we still use ice bags, but you can see now the technology of the cutting edge medicine of being able to get into these different chambers and see your body heal and also be able to perform at a higher level as you get older," he said. "You gotta make sure you don't abuse it."
MISSING YOU
While Jason takes his time to make sure he's back at 100 percent before pushing himself out on the court, the Mavs are struggling to establish themselves consistently without No. 2 on the floor.
They picked up their third win in six games since his absence on Wednesday, but that 'W' snapped a three game skid that included an uncharacteristic loss to the Cleveland Cavaliers over the weekend. Coach Rick Carlisle was open about his thoughts afterward.
"We miss Jason Kidd," Carlisle said. "This is why when I'm asked about him coming off the bench, it's a nonsensical question. "This is why he's one of the all-time great players. This is why he's the best point guard in Mavericks history."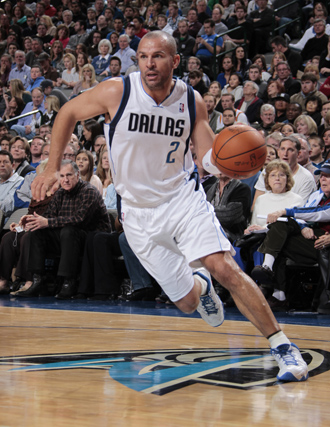 The Mavericks had 21 turnovers in their loss to the Cavaliers and turned the ball over a total of 52 times over the three-game skid, something that Dirk Nowitzki said doesn't happen with No. 2 at the helm.
"Without Kidd out there directing the ball, it's hard. We've got to get J-Kidd back. We've got to get our leader point guard," Dirk told the Dallas Morning News. "We miss him in fourth-quarter situations, down the stretch, his defense on the ball, his decision-making with the ball, getting the guys in the right positions. If J-Kidd's there I don't think we would have 21 turnovers. That's for sure."
Behind their floor general, the Mavs are among the top 10 least turnover-prone teams in the league. In fact, Kidd's 2.06 turnover average actually ranks as one of the lowest in the league among point guards. Jason Terry noted that J-Kidd is Dallas' director on both sides of the ball.
No. 2 finds the hot hands on offense and he positions the team on defense. Without either, the Mavs often find themselves, and the ball, out of place.
"He's going to find you in the spot that you like to get your shots and that's key," Terry said. "You can't ask anyone else to do that for you. It's just a special skill set that he has.

"Offensively, he's the guy that the ball's going to be in his hands and if he turns it over, no problem," Terry said. "Defensively, he's our head. He's what Tyson [Chandler] was for us last year as far as communicating and gets guys in the right position on the defensive end."
Reserve guard Delonte West, who has been splitting time at the point with Rodrique Beaubois in Jason's absence, seconded Terry's point about No. 2's basketball acumen.
"We're still missing J-Kidd, our leader," West said. "I think once he gets back, that's going to shut a lot of things out and kind of put people in their right positions and we'll be all right."
For his part, Jason is saying that return his close and if it's not Friday, barring a setback, it shouldn't be too long thereafter.
"I've been running, I've been cutting, I've been shooting," he said Wednesday night. "Everything is responding in a positive way. We're going in the right direction."
NEXT UP
The Mavs (15-11) play a road-to-home back-to-back this weekend, facing the Timberwolves in Minnesota on Friday night before heading home to host the Portland Trail Blazers on Saturday.
Over their next eight games leading into the All-Star break, Dallas plays five teams in playoff position and seven that boast records of .500 or better. At the end of what could be a defining stretch of the season, the Mavs will be more than halfway done with their regular season schedule.
Jason, who has been able to watch the team more intently during his absence, sees progress as the season approaches its midpoint.
"I think we all have gotten off to a slow start, but look we are right there, he said of the Mavs, who currently hold the fifth spot in the West. "We still haven't played anywhere close to good basketball. We have to go into the break being positive and feeling good about ourselves, but the biggest thing is we all understand with our health coming into the second half – we all want to be healthy and ready to play and again have the opportunity to defend our title."
Friday's tipoff is scheduled for 7 PM CT and the game can be seen on Fox Sports Southwest.

RELATED STORIES